herworld
APP DESIGN / CONCEPT / PRODUCT DESIGN / BRANDING / UX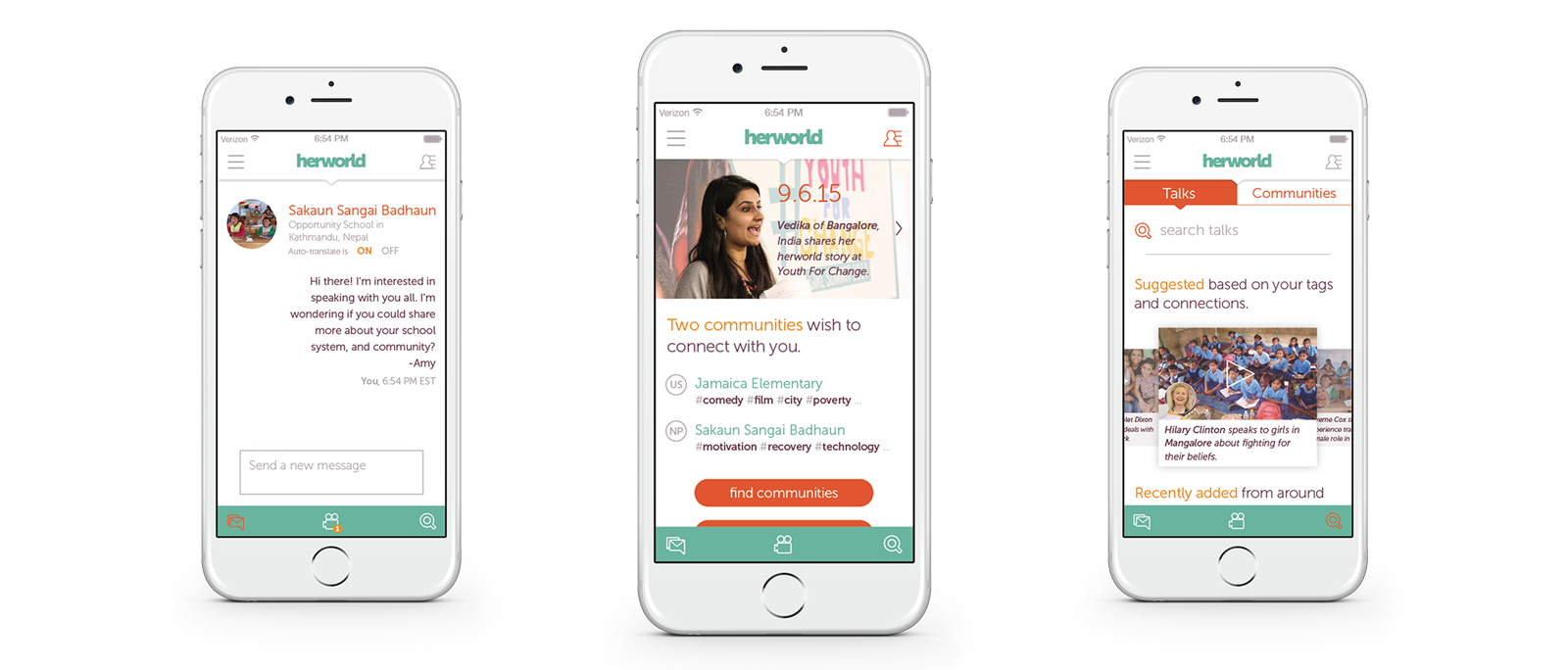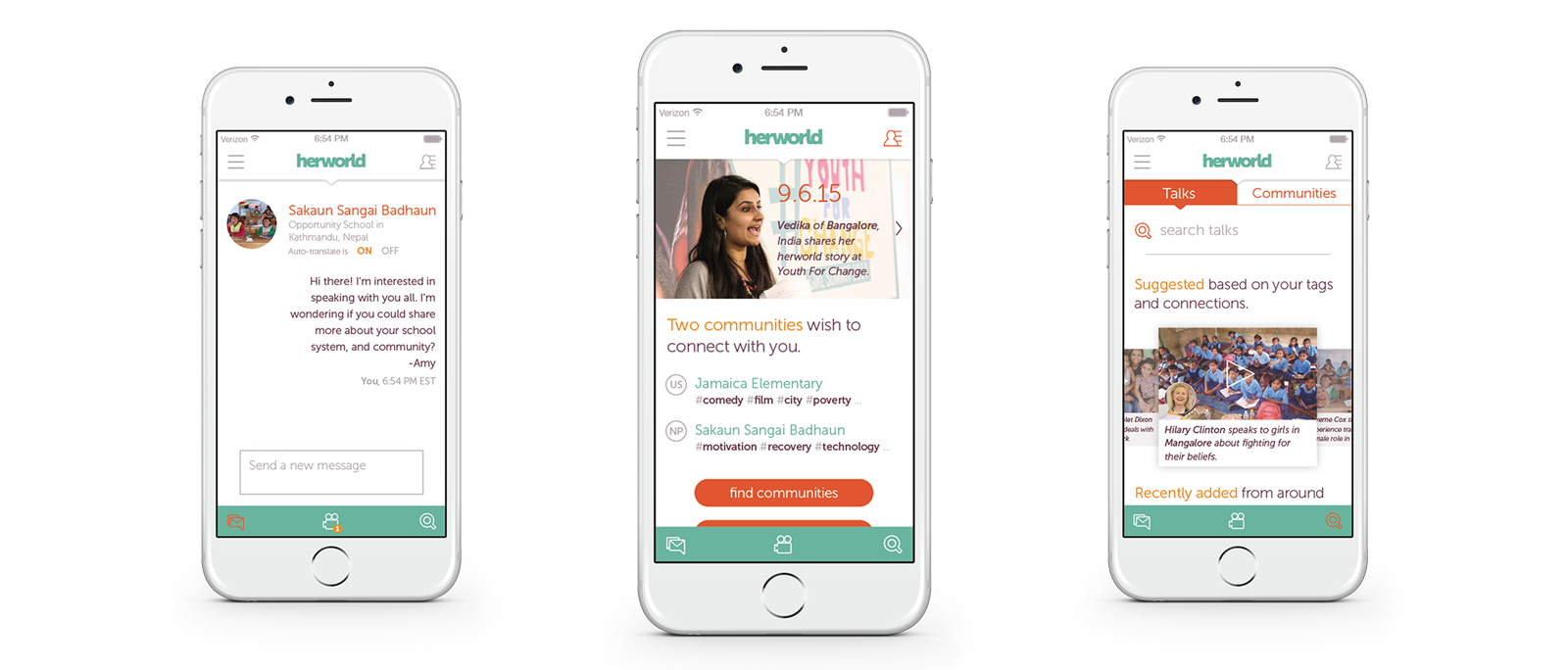 OVERVIEW
Empowering girls through mentorship.
herworld is an app concept generated given a prompt by Theirworld, an organization that aims to help all children have the opportunity to fulfil their potential.
The prompt asked to help further education for underprivileged and vulnerable girls around the world through the use of technology. My proposed program and accompanying application aims to connect successful, inspiring women in various fields with communities of girls by helping to arrange video talks that could be shared with other communities.
These talks serve to uncover the positions that women can hold in this world, encourage girls to continue receiving an education, and have the potential to generate mentorships and connections that last beyond an initial video conversation.
CONCEPT
As a mobile app, herworld can be used by anyone to watch existing talks (each one is recorded), learn more about the cause, read stories, and donate.
For communities, it also serves as a simple platform for discovering and connecting with speakers; likewise for speakers looking to share their experiences, expertise, and hope. While speakers may use the mobile application for talks, it would likely be translated to a desktop or larger screen format for communities, which could be funded by donations generated by the app.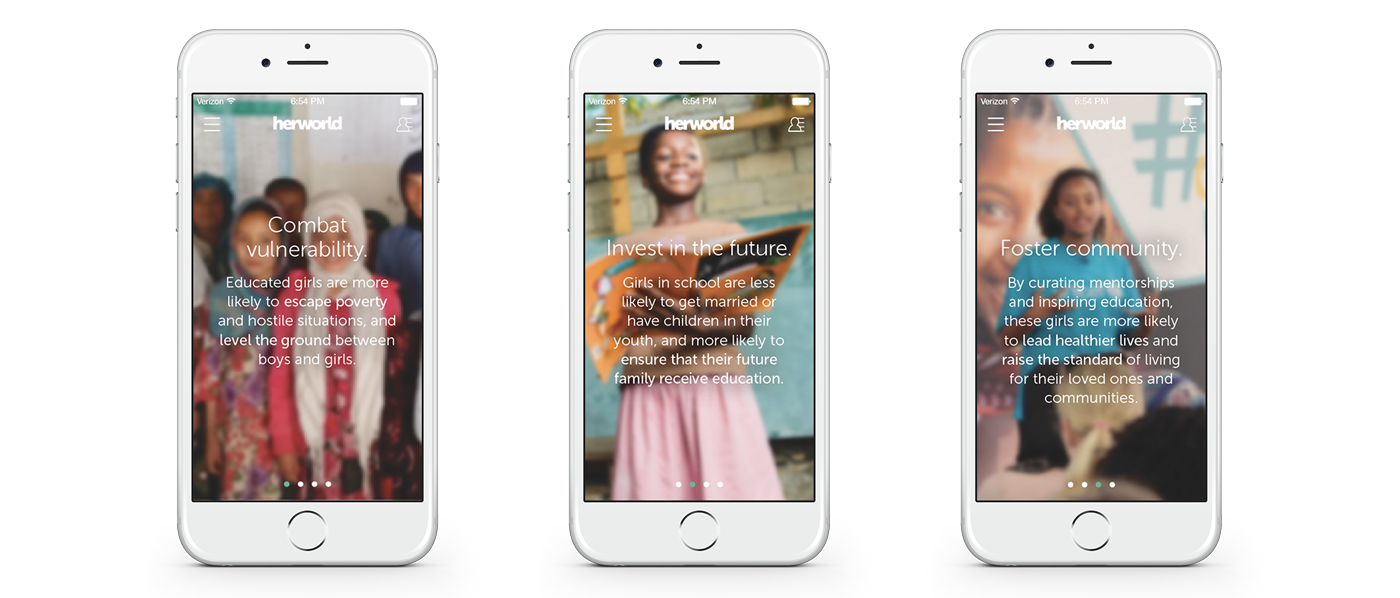 BRANDING
Global, educational, and empowering.
This app will reach out to established, successful female-identified individuals as well as underprivaledged girls around the world to make connections that inspire education, dreaming, and prosperity among any and all of today's female youth.


WALKTHROUGH
Below you can check out a video I made to help demonstrate app interactions. Though some small design tweaks have since been made, user flow has stayed consistent.
For an in-depth look at my research, strategy, and design process, see my process book or reach out to me.
[unex_ce_button id="content_9p2a5dqlt" button_text_color="#f4f3f2" button_font="bold" button_font_size="12px" button_width="auto" button_alignment="center" button_text_spacing="2px" button_bg_color="#69b39e" button_padding="8px 45px 8px 45px" button_border_width="1px" button_border_color="#69b39e" button_border_radius="0px" button_text_hover_color="#f4f3f2" button_text_spacing_hover="2px" button_bg_hover_color="#333333" button_border_hover_color="#333333" button_link="https://drive.google.com/file/d/0B-YKqR5kINYPVHBXaWNnLWZPS2c/view?usp=sharing" button_link_type="url" button_link_target="_blank" has_container="1" in_column=""]PROCESS[/ce_button]