Overscore
APP DESIGN / CONCEPT / PRODUCT DESIGN / BRANDING / UX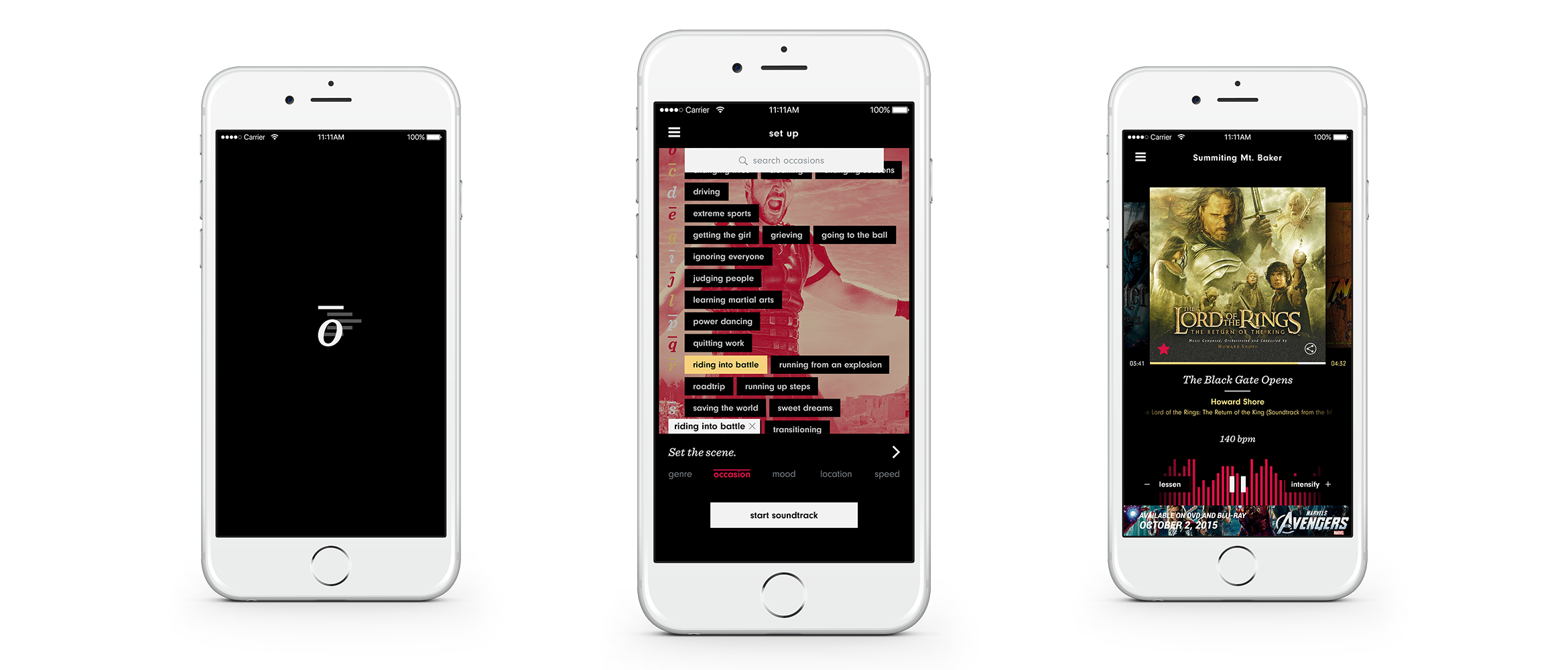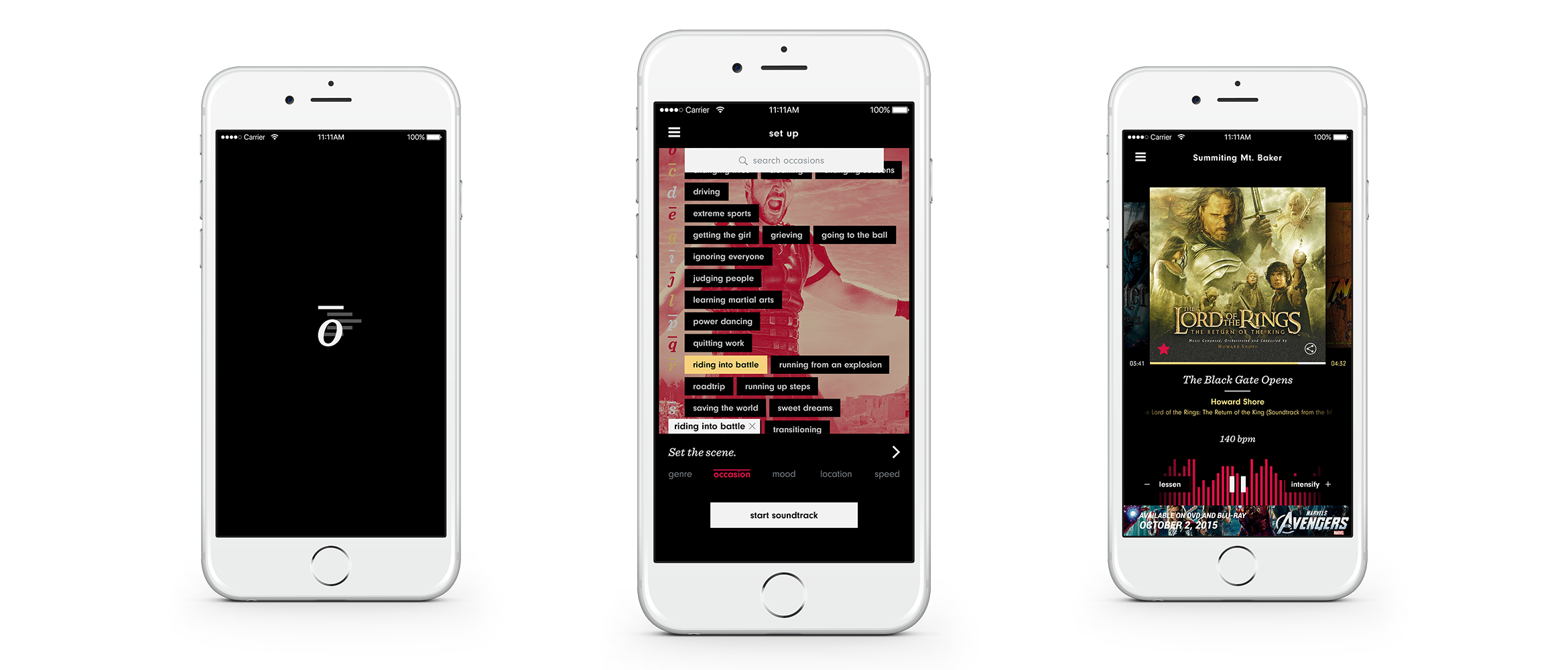 OVERVIEW
A music app for the melodramatic in all of us.
Overscore is a mobile app designed to combat life's mundanity; more specifically, its lack of a soundtrack. The app makes activities as cathartic as they are in the movies by creating a way for individuals to listen to "movie scores" uniquely generated for their feelings and tasks. Overscore serves to make the mundane brilliant, and the exciting sustainable.
Overscore generates playlists unique to each of its users and their situations. It adapts to changes in tempo or intensity and provides seamless mixes, or scores, by blending parts of existing songs together.
Instead of selecting a musical genre, the user is prompted to define their life's genre for the day and is provided various film genres to choose from. Instead of selecting an activity, they select an occasion - the options for which are riddled with classic movie tropes, such as "getting the girl" or "riding into battle." These options prompt users to get into the movie mindset while the app gets the information it needs to prepare the perfect soundtrack.


BRANDING
Smart, cheeky, delightful, and brilliant.
Through use of type, motion, language, and image overlays, the branding blends the classical world of film with the high-energy tech of today. All elements work together in the interface to help users own the fact that their life is a movie, simply lacking a soundtrack.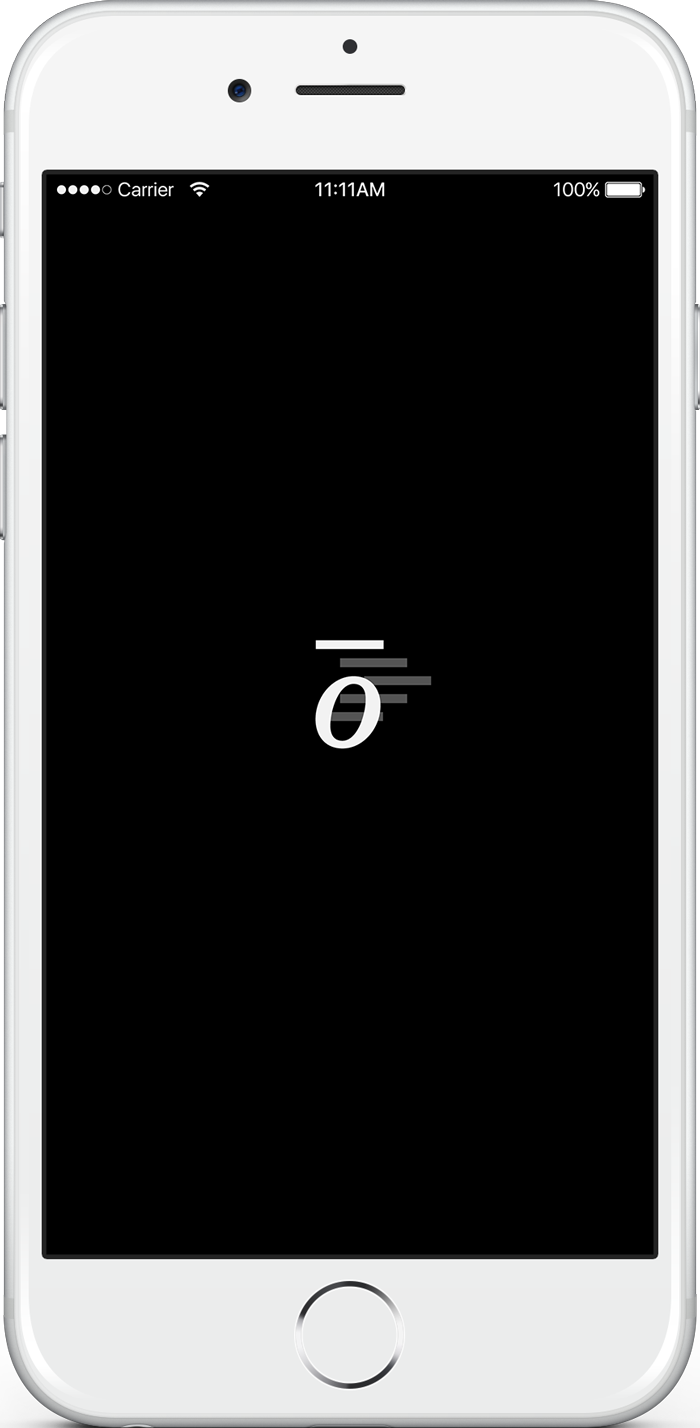 ON SCREEN
Through set-up and settings, the app would learn about the user's overall music preferences and what to leave out. To generate something that plays more like one seamless and unique movie score, each song would play for roughly 45 seconds (more or less) before mixing into the next. Songs are strategically mapped out so that crescendos and diminuendos are aligned from song-to-song, and according to the user's indication for something more or less intense.
BEHIND THE SCENES
The app collects data of songs available through online music retailers including BPM, genre, and instrument type. It also collects data in relation to structure of songs, such as frequency of notes and crescendos/diminuendos, allowing it to strategically, intelligently, and seamlessly blend tracks together.
FEATURES
Customize your setting. Set a mood and occasion for your soundtrack; keep it real or bend the truth. Opt to let location and speed play roles, adding another layer to the music you'll hear and the intensity of it.
Title your scores for reference later on, view what they consisted of, and play them back later to relive moments with a premium membership.
Favorite a song that comes up in your mix for reference later.
Share a song that comes up in your mix with your friends. Maybe a certain chorus powered you through the end of your run, or a melody provided just the tug your heartstrings needed.
Premium membership allows users to playback soundtracks and use the app without banner ads.
For more research and details regarding this project, feel free to reach out or peruse my pitch book.
[unex_ce_button id="content_9p2a5dqlt" button_text_color="#f4f3f2" button_font="bold" button_font_size="12px" button_width="auto" button_alignment="center" button_text_spacing="2px" button_bg_color="#000000" button_padding="8px 45px 8px 45px" button_border_width="1px" button_border_color="#000000" button_border_radius="0px" button_text_hover_color="#f4f3f2" button_text_spacing_hover="2px" button_bg_hover_color="#333333" button_border_hover_color="#333333" button_link="https://drive.google.com/open?id=0B-YKqR5kINYPTmY5Zkl5S2NsOEE" button_link_type="url" button_link_target="_blank" has_container="1" in_column=""]PITCH BOOK[/ce_button]