Miscellaneous; Promotional
VISUAL DESIGN / CONCEPT
A few of these projects are straight from my work for the Publicity Center at Western Washington University, which typically means they were extended into Facebook cover photos, table tents, handbills, large format banners, and digital signage formats as well.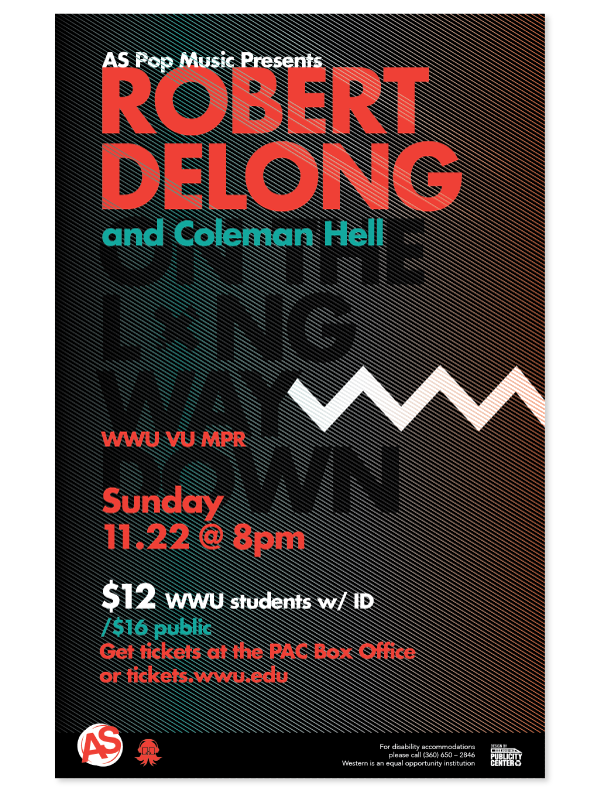 ROBERT DELONG CONCERT
Robert DeLong is an electronic artist that came to WWU in the Fall. He has a distinct style and a few big hits, and I took these things into consideration in order to design publicity that would spark familiarity with people who may know his music but not his name. I created two posters, each highlighting lyrics from two of his most popular songs, and continued this through additional collateral.
LINOTYPE: THE FILM
After watching "Linotype: The Film," I integrated some of the physical and conceptual qualities of the machine to develop a poster advertising a hypothetical showing of it. I highlighted its meticulous and mysterious by creating an obscure, amorphous form of moving pieces as a subtle hint to the machine's industrial quality.
STUDENT SHUTTLE REDESIGN
Every year, the late night student shuttle collateral gets a refresh to go along with its updated routes. Some changes the client wanted to implement this year included a lighter background (for printing purposes), potentially labeling stops with numbers to simplify the map, and overall providing even more clarity where possible. I differentiated between the routes by referring to them as "clockwise" and "counter-clockwise" since they share almost the same street route, and created a key that makes the map easier to digest and correllate with the schedule.
BLAKE HERRINGTON TALK
This banner was a part of the publicity I did for climber and writer Blake Herrington. He came to Western this Winter to talk about life and the Cascades, as well as to promote his new book.
JAWS IN THE POOL
Sometimes, the cutest thing you make in college is for a horror movie. This banner was designed to promote an upcoming viewing of the movie JAWS from the rec center pool.