re+assure
PACKAGING / CONCEPT / UX / BRANDING / PRODUCT DESIGN


OVERVIEW
Tactile peace of mind.
The re+assure bracelet is a wearable, discrete piece of technology that monitors the vitals and routines of those who are aging or in poor health so that someone else doesn't have to. It addresses the issues of people who care for individuals who are aging or in poor health, but live too far away to visit frequently.
re+assure takes the anxiety out of a simple existence by effortlessly ensuring one's well-being to their long distance caregiver.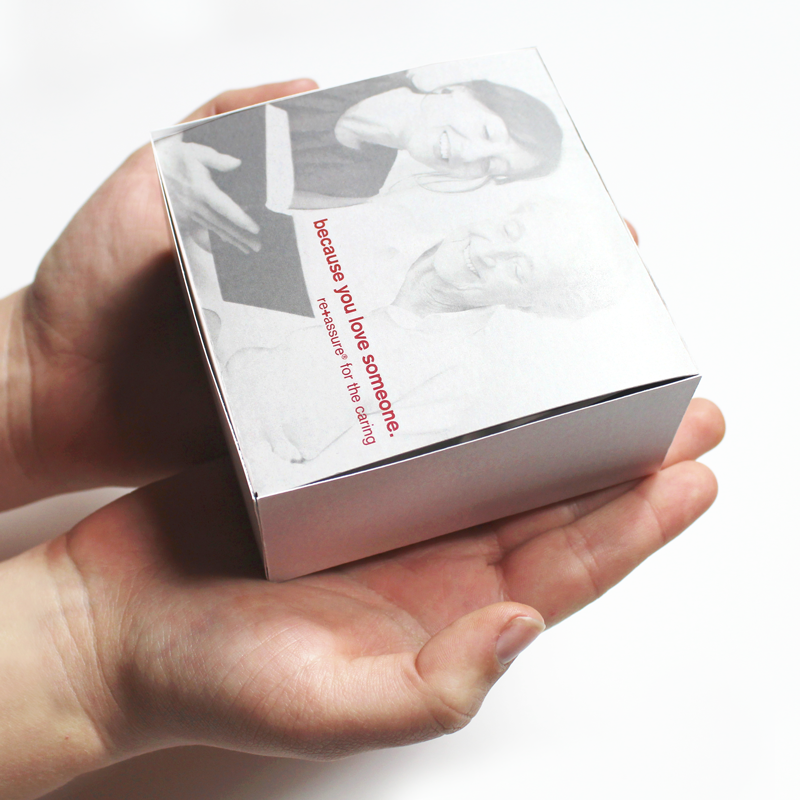 DIFFERENT AUDIENCES
This project required me to address two equally important users with sensitivity: the long distance caregiver—likely purchasing the product—who desires peace of mind regarding their loved one, and the cared for user who doesn't want to feel monitored or change up their routines.
DIFFERENT EXPERIENCES
In order to address two sides with one central need, I packaged the physical products as two separate nested units. This allowed me to use more fine-tuned language and framing for each user.
One person would purchase the set and send the relevant portion to the other. Each section contains the physical product (re+assure bracelet or ring) as well as an informational pamphlet about the system and use.


SYSTEM
The system is non-invasive in that it requires no surgery, doctor appointments, or schedule alteration on either end. It only alerts one (the long-distance caregiver) in times of alarm, e.g. if it senses a fall or sudden spike in blood pressure. This allows users to feel confident in one another's well-being or sense of security at all times.
Gathered information is always recorded on the re+assure website and mobile application, but is not accessible to the caregiver unless pertinent. The system does not aim to take on a "big brother" role, but rather a mediator that's there when it's needed. Users can keep track of any of their own information and stats, whereas caregivers can view things like heart rate spikes or track location just in times of emergency.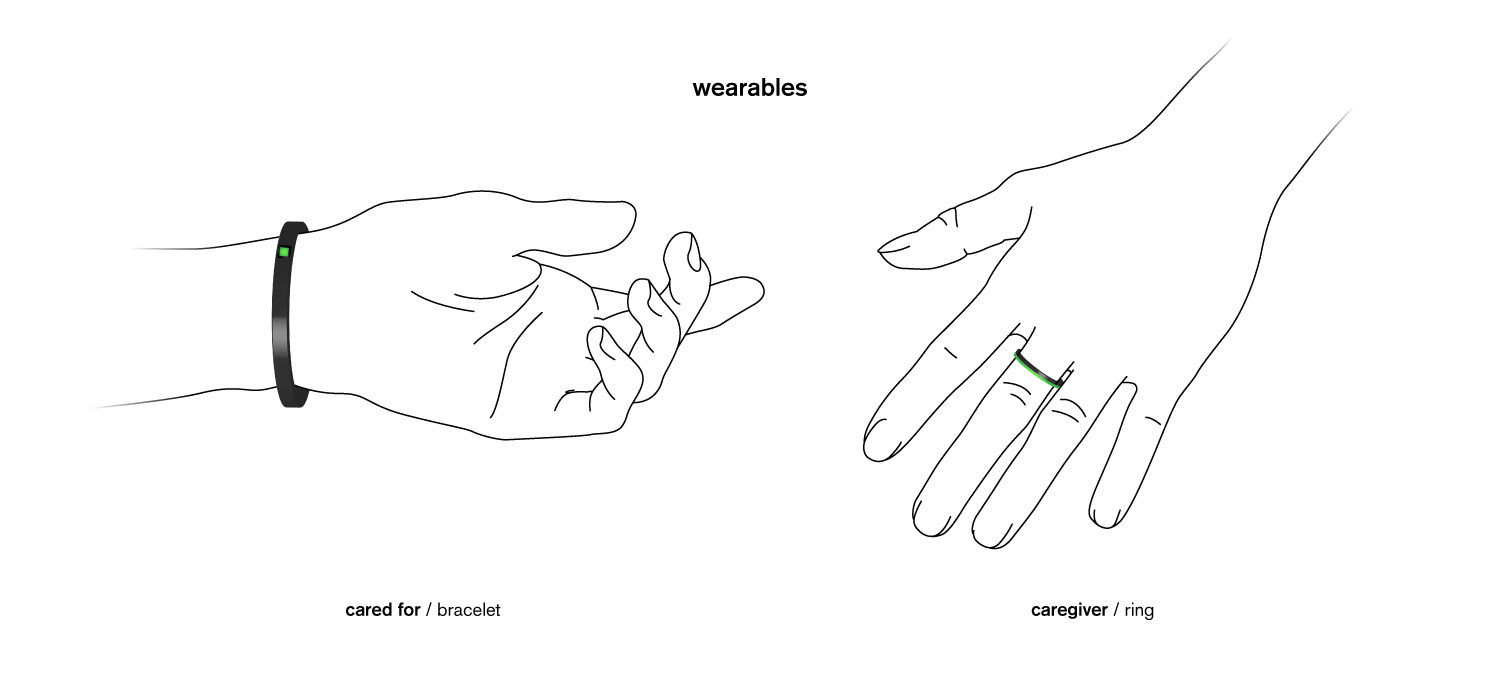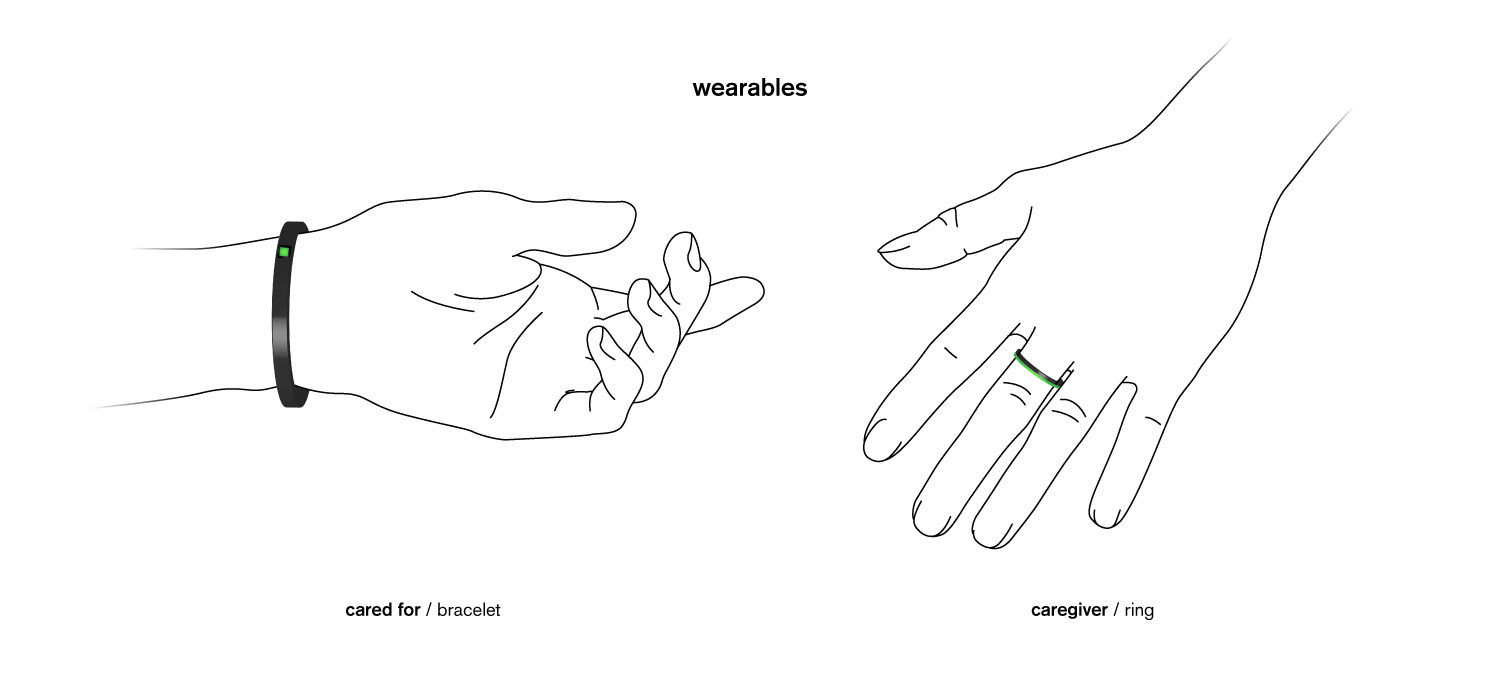 For more research and details about this project, refer to my process book or myself.
Brief research update here.
[unex_ce_button id="content_9p2a5dqlt" button_text_color="#f4f3f2" button_font="bold" button_font_size="12px" button_width="auto" button_alignment="center" button_text_spacing="2px" button_bg_color="#aadde1" button_padding="8px 45px 8px 45px" button_border_width="1px" button_border_color="#aadde1" button_border_radius="0px" button_text_hover_color="#f4f3f2" button_text_spacing_hover="2px" button_bg_hover_color="#333333" button_border_hover_color="#333333" button_link="https://drive.google.com/open?id=0B-YKqR5kINYPSFo3SktTZzJjaFk" button_link_type="url" button_link_target="_blank" has_container="1" in_column=""]PROCESS[/ce_button]